Drogheda, Co Louth.
September 2007

We designed this kitchen with Reuvan's input. The restaurant opened at the end of november 2008. we supplied all the kitchen equipment,extraction canopy,white rock & stainless steel wall cladding E.P.O.S and Glasswashers. Excellent Restaurant with a high profile.

"Working with Boss Catering made what was a complex task much, much easier. Working with professional people who know the full range of what is available, helped us save thousands of euros by choosing the right equipment for the task at hand in the space available"
Reuvan Diaz And Jeni Glasgow
Oldbridge, Drogheda, Co. Meath.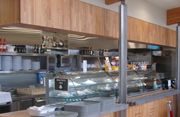 OLDBRIDGE HOUSE TEA ROOMS PAVILLION
( BATTLE OF THE BOYNE HERITAGE SITE)
Our brief from the O.P.W was to create a cold servery display and functional back counter within a shell finished with a light oak wooden counter and bulkhead. The carcase was constructed entirely from 304 grade stainless steel and was built in such a way as to allow the joiner to apply the light oak panels and top without any visible fixings.This gives the impression of a complete solid structure from the outside while being entirely practical to the operator on the inside., The customised tray rail is just one of the unique features in this installation. We used Counterline integrale IS3ASMD3 chilled display deli counters for the front display section.
B.O.S.S CATERING EQUIPMENT created a visually stunning front of house cold servery counter for us. We found that they utilised the compact space that we were given and gave us invaluable advice on the complete project. They are a local company with excellent product knowledge and service, quality products competitvely priced and have a friendly and professional approach.
Oldbridge House Tea Rooms
Irish Cement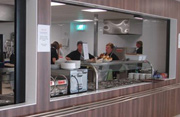 Drogheda Co. Louth
November 2008
We were contracted to provide a new canteen to service 350 workers and contractors as part of the facility's expansion program. The area provides an efficient and spacious work environment for the cooking and service staff while offering employees a fast and efficient service line. Our remit was to provide all electric equipment, so we made sure it was the most energy efficient equipment available.
I am very happy with the kitchen B.O.S.S CATERING EQUIPMENT provided for us. They carried out the design to the requirements we gave them and made improvements where they saw problems. The equipment is heavy duty and exactly what is required for a busy kitchen. They gave us excellent training and advice on the maintainence of all the equipment they provided. They were also able to provide all the chemicals for cleaning the combi ovens and detergents for the dishwasher. As a service company we would highly recommend them.
Head Chef Willy Reilly